I have no deep thoughts this week. While the case for the 2nd Amendment should be made with the simple question, "How much do you really trust your government, past, present and future?" I'm actually focused on something more immediate at the moment. Events in my own neighborhood have made a more active neighborhood watch desirable, and I find myself wishing my sheriff were more generous in his CCW issuance policy. I've actually now sent him copies of Sheriff Mack's relevant books in the hopes that where activist citizens might be ignored, the opinions of another Sheriff might have some weight.
At first, nothing seemed unusual about the man inquiring about a DVD player at a Bucks County, Pa., pawnshop and check-cashing business. But 10 minutes minutes after he left, he returned with two accomplices, one of whom pointed a gun at the store owner. When a female employee sought refuge behind a steel door, the gun-toting man fired several shots at her. Outnumbered, the store owner drew his gun and fired, striking two of the intruders, including the man who was armed. One suspect lay injured on the floor until paramedics arrived, while his accomplices fled only to be apprehended by police. The store owner suffered a gunshot wound to his hand. "Certainly this should send a message to anyone who wants to carry out a crime in Bucks County that you can't go around terrorizing people. You may find yourself on the other end ...," said District Attorney Diane Gibbons. (
Bucks County Courier Times

, Levittown, PA, 08/26/2005)
Following the burglary of her apartment, a Georgia woman refused to be victimized again. She purchased a firearm for protection, and it was not a moment too soon. Police say that a man began climbing into her bathroom window late one night, but she was able to fend him off with her gun by shooting him several times. He stumbled out of die apartment and forced his way into an occupied BMW. The driver later told police that the suspect said, "I need a ride to the hospital because I've been shot. Don't stop because I'm going to jail." Upon his release from the hospital, police planned to charge the alleged burglar, whom they also considered a suspect in the previous break-in at the woman's apartment. (
Savannah Morning News

, Savannah, GA, 08/25/0205)
What sounded like an explosion outside a Michigan mans home set off a bizarre chain of events. According to police, when the homeowner looked out his window around 2 a.m., he saw that a Jeep had crashed into his garage. Armed with a handgun, he went outside and found a man trying to dislodge the vehicle. A yelling match ensued and the man drove off, but returned with his lights off. The homeowner, fearful diat the driver was trying to hit him or run him over, hid ; behind a car, and the suspect accelerated and smashed into it twice. The homeowner then fired four shots at the Jeep, but his gun jammed, so he ran inside to retrieve another firearm while his wife and neighbors phoned police. When the homeowner returned, the driver of the Jeep accelerated toward him so he fired two more shots at the vehicle. The driver, whose vehicle was riddled with bullet holes, then left the subdivision and was apprehended by police. (
Detroit Free Press

, Detroit, MI, 09/13/2005)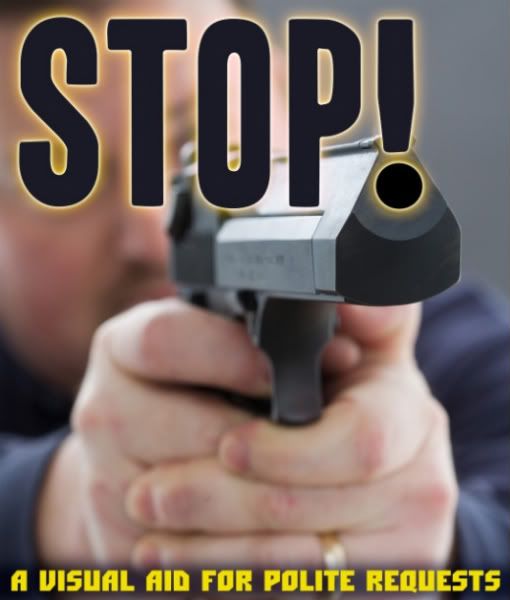 When an armed citizen confronted an alleged burglar inside his northern Virginia home early one morning, police say the intruder ran from the family room to the bedroom of the homeowner's teenage daughter. A struggle ensued and ended when the homeowner shot the intruder in the face. The suspect fled on foot, but was arrested at the hospital when he sought treatment. (
Arlington Sun Gazette

, Arlington, VA, 09/01/2005)
Ice-cream vendor Christopher Sanders, who has a concealed carry permit, told police he was selling in his usual territory when a man flagged him down and asked for a ride. When Sanders told him "no," the man allegedly tried to open the vans sliding door, which was locked, and then tried to reach in an open window on the passenger side. Sanders grabbed a handgun from behind a seat, pointed it at the alleged perpetrator and told him to get his hands out of the vehicle. The man uttered an expletive and left while Sanders phoned police. As Sanders waited for an officer to arrive, the man returned and walked toward him with his hands in his pockets. Police say Sanders yelled at the man to show his hands, and two witnesses saw the suspect throw a knife on the ground. The alleged criminal was found by police, arrested on suspicion of robbery and booked for a previously issued misdemeanor warrant. (
The Columbian

, Vancouver, WA, 09/07/2005)
After an Idaho woman went outside her home to investigate a strange noise, she found a former co-worker hiding in the bushes. He told her his pickup truck had broken down and he needed a lift home. She reluctantly agreed and took a .380-caliber handgun with her. Police say that when they reached the co-worker's driveway, he began to assault her. "He grabbed her and physically attacked her and told her she was coming with him," said Sheriffs Capt. John Valdez. The woman drew her gun and shot the man in the abdomen, killing him. An autopsy of the assailant, who was a registered sex offender, showed he had a blood-alcohol content of .26 percent. Investigators say his truck was later found near the woman's home, and it appeared that its engine was intentionally disabled. (
Associated Press

, 09/17/2005)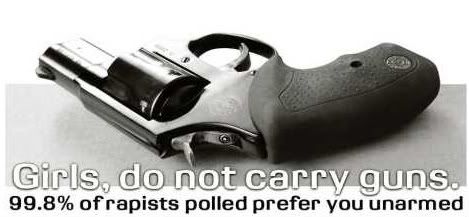 Other accounts of self-defense collected on this blog:
2nd Amendment Saves a Pregnant Woman
,
Armed Student Saves 10 People
,
2nd Amendment vs. a Serial Rapist
,
Crime Spree Stopped with the Simple Presentation of a Firearm
.
Failures of Gun Control:
UK Government under reports gun violence to pretend their policies work
,
Scotland holds a Summit on their Failed Gun Policies
,
Chicago's gun ban continues to fail
,
Real Women's Rights
(This one includes
one of my favorite personal accounts
),
Opposition to CA AB 2062
,
Knife Control?!
,
Protecting Children through Gun Control?
,
Futility of the Gun Banning Philosophy
,
A Contrast to VA Tech
.
Thoughts just prior to the release of DC v. Heller, with one of the best appellate court quotations ever
.
Thoughts on publicized shootings:
Shootings early in 2009
,
Alabama Shootings
,
Finland School Shooting
. Remember: The only proven method to mitigate the disaster of a rogue criminal shooter is to have more first responders, e.g. CCW permit holders lawfully armed and on scene. These criminals do not respect "gun free" zones, but simply view them as target-rich opposition-free areas in which to slaughter innocents.
Why no one should support gun control
.
Carrying a Firearm is an Inherently Civilized Act
.
Right to Carry Statistics
.
Does Violence Beget Violence
?