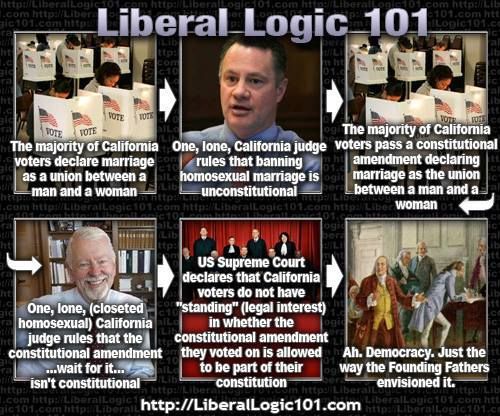 I've seen this floating around. It's pretty funny, but there's also a very serious point to be made about the SCOTUS decision. If the Supreme Court had ruled that Prop 8 was unconstitutional, that would be fine. After all, the point of having a Constitutional Republic is that the rights of minority groups are protected by the Constitution and the courts. Ruling that California voters do not have standing to defend propositions we pass is another matter altogether.
It's also a huge danger to anyone who lives in California. For a more full explanation, here's a two paragraph post:
Eastman fears SCOTUS rulings threaten Prop. 13, entire Initiative process
The California initiative process exists because voters decided their representatives aren't doing a very good job of representing us. There are probably better ways to handle the situation, like fixing gerrymandered districts (though we tried that, and found that they still got gerrymandered). Still, the Prop 8 ruling means that if our State government doesn't like something we've passed to rein in our State government, all they have to do is refuse to defend it in court, and then the voters don't have standing to defend what we've done.
Ready to have Prop 13 go away and your property taxes to go up? Oh, and renters, that means your rents will go up so your landlords can pay the increased taxes.
And they wonder why we're all moving to Texas.